Do you miss 'The King'? Would you like the opportunity to stand before him and be serenaded by the spectacle, charisma and humour of Elvis Presley? Th
Do you miss 'The King'? Would you like the opportunity to stand before him and be serenaded by the spectacle, charisma and humour of Elvis Presley? The true King might be dead, but there's still a chance for you to enjoy the magic of a live Elvis performance.
We've put together the top ten Elvis tribute acts in the UK who can deliver your favourite Elvis songs at any number of events. Most of these acts can be booked for a variety gigs, anywhere in the UK.
Jim Devereaux, popularly known as JD King, is recognised as one of the world's leading Elvis impersonators and the UK's most popular and highly rated Elvis tribute act. In fact, he is considered by many to be the very best at keeping the spirit and legacy of Elvis Presley alive and has won many awards to prove it. He's adopted the persona of 'The King' since starting his career in 2002 and is the first choice for many due to his stunning recreation of Elvis.
JD has performed with and appeared alongside members of Elvis Presley's actual family, as well as members of the late King's show band. JD King's commitment to celebrating and showcasing the artistry of Elvis is widely admired and his performances have earned him five-star reviews on several platforms. Currently, he enjoys more positive reviews than almost all other Elvis tribute artists in the country.
If you want a seasoned professional who can thrill you with the voice and swagger of Elvis, JD King is the one. He is committed to recreating Elvis in his prime to give you the very best of his classic and timeless songs, as well as showmanship.
Gordon Hendricks' talent as an Elvis Presley tribute artist became apparent after he won the Ultimate Elvis Tribute Artist Contest in 2017, beating almost 100,000 contestants. He has also won awards in Europe and Canada for his Elvis related acts.
His services as an Elvis Presley tribute artist are in high demand and he's always on the move to thrill fans across the UK and all over the world. Gordon Hendricks' penchant for selling out theatres is more than enough evidence of his ability to mesmerise you with his performance as the King of rock and roll.
Ben Portsmouth doesn't just sound, feel, and move like Elvis. He LOOKS like Elvis, which makes him the full package. The artist shot to true fame in 2012 when he was crowned 'Worldwide Ultimate Elvis Tribute Artist' after winning the Elvis Presley Enterprises 'Ultimate Elvis Tribute Artist Contest' in Memphis, USA. This made Ben Portsmouth the first non-American to win the much coveted title.
Ben Portsmouth headlines shows all over the world as an Elvis act; having him perform at your event will guarantee a memorable spectacle that delivers a whole load of original King flavoured rock and roll.
Andy James is an award winning performer who thrills UK audiences with his live 'Elvis in Concert' shows. If you want a great showman who will have you dancing along to your favourite Elvis hits, Andy James is your man. This Elvis impersonator has a variety of five star reviews on his Facebook page and comes highly recommended for his charm and ability to leave his audiences always wanting more.
Fans of Andy James are especially thrilled by his performances which mimic Elvis Presley's famous Vegas shows. So, why go all the way to Vegas when you can have Andy perform your favourite rock and roll songs right here in the UK at your own private party.
DaniElviS is a London born talent, who is considered one of the most beloved Elvis Tribute Artists in the UK. He has toured across the USA, Europe, and Central America, having audiences all 'all shook up' with his style and charisma, which beautifully mirrors that of the late King.
DaniElviS is an entertainer at heart, so you can be sure there'll never ne a dull moment when he combines his voice, looks, and spirit to bring the King of Rock and Roll back to life. He also has a great sense of humour, which adds a unique flavour and liveliness to all of his shows.
He can be booked as a soloist for a variety of gigs in the UK; he also performs alongside his band for a more complete Elvis experience. According to a recent review, DaniElviS' puts on a "…really amazing show that's plenty of fun for everyone."
This Elvis tribute act comes hot out of Shropshire and has toured the whole country, thrilling legions of diehard Elvis Presley fans. Andrew Memphis typically performs with his band at small gigs, such as corporate events, weddings, parties, and clubs. His performance as 'The King' has been noteworthy enough to appear on the BBC, ITV, and local radio.
So, if you've got a private party coming up in the UK, ask Andrew Memphis over to thrill your guests and have them dancing their socks off.
Rob Kingsley is an Elvis Tribute Act who's recognised as one of the best in Europe – especially after coming first in The European Championship at Europe`s largest Elvis competition. His other awards as an Elvis impersonator include winning Best UK Vegas Elvis in 2007, European Champion in 2008, Best Vegas Elvis Award by The Disabled Fan Club in 2009, and Best New Comer Award of The Official Elvis Presley Fan Club in 2009. He was also Runner Up at the European Championship in 2007.
As a world class entertainer, Rob Kingsley has led many successful shows around the world and appeared on a variety of Radio and TV shows.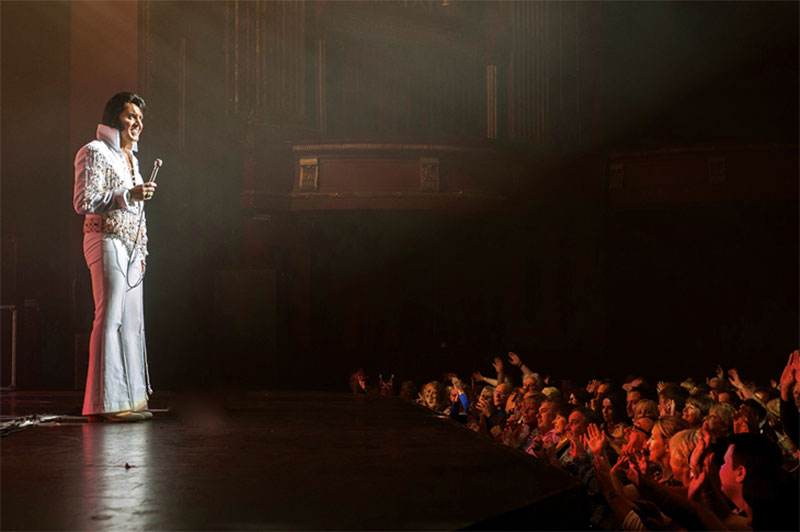 JC Aron has been touted as one of the UK`s greatest Elvis tribute acts. This is because of his ability to captivate his audience and recreate the true spirit and feel of 'The King'. JC's distinctive voice and array of costumes are also big show stealers that can be counted on to excite all Elvis fans.
JC's performances are suitable for people of all age groups and he can be hired to perform anywhere in the UK. He's been performing as an Elvis Tribute Artist for eleven years now and is not only a great showman, but also a consummate professional.
Maurice Broadway has a stellar reputation for satisfying crowds of Elvis lovers looking to catch a glimpse of 'The King' in action. Maurice has performed several tributes to Elvis Presley over the years and is considered the complete show, as he comes armed with his own array of stage lighting, American flags, smoke machines, as well as professional backing tracks and authentic Elvis replica jumpsuits.
His voice is appreciated by fans all over the world for its striking resemblance to that of the real Elvis Presley; when you get to hear him sing, you're bound to become a believer as well. If you're looking for a self-contained show which creates that Vegas thrill and atmosphere, Maurice Broadway is your man.
There are many Elvis Tributes playing all over the UK, but Neil J. Duncan is one of the select few that guarantee a great show for all audiences – especially if you've got an Elvis Themed Night planned. Neil has got the moves, the voice, the looks and the stage presence, and he's most definitely charming.
Neil's ability to resurrect 'The King' is widely recognised, as is evidenced by his numerous awards, which include `Best Elvis in the UK` and being established as one of best Elvis Tribute Acts on the circuit today. You can book him for small shows and gatherings or bigger occasions with large audiences.
He's available as a solo performer or you can have him come along with his three female backing singers, as well as his Live Elvis Band.
Other honourable mentions of Elvis tribute acts in the UK that didn't make our list include Ray Godwin, Mike Memphis, and Craig Jefferson.